For first time, the tourist office has been able to set up an information point in the second biggest music festival of France 
le Hellfest
in Clisson
during 3 days the 20th to 22nd of June 2014
With Emma, Mathilde, Julie, Laurence, Alexis, Romain and Samuel, we relayed us during these three days (Friday night, Saturday and Sunday) on a stand in the middle of the festival in front of the main scenes close to the 30m high Ferris wheel, a novelty this year.
The objective of this operation was to promote tourist attractions in our territory from festival-goers especially those who aren't very interested by the vineyard of Nantes.
The "HellFest" represent 170 000 festival-goers coming from all over the world in Clisson, usually a city with 7 000 inhabitants.
With my colleagues we have informed approximately 2 000 people during the week-end whose 500 tourist requests. And we noted that the festival-goers comes from all around the world, we have met of course lots of French but also Spaniards, Germans, Swedes,etc.. And Australians, Americans, Venezuelans for example… We have distributed almost 1 000 tourist documents in 3 different languages: French, Spanish and English.
About requests, mainly they were based on to visit Clisson, hikies and walks in the vineyards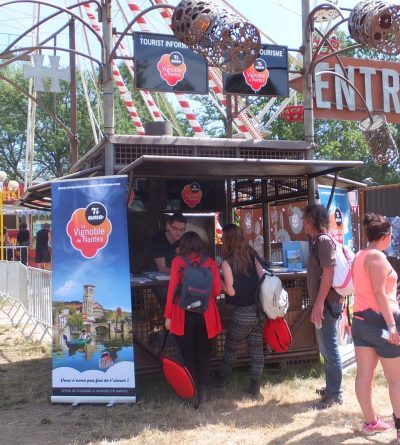 Many festival-goers didn't imagine that next to the festival there is a nice and charming Italian city with a medieval castle. !. 
Other people were here because they were researching ideas to extend their stay in the vineyard of Nantes or to prepare a future stay.
In conclusion, this promotional tourist operation of our territory has been successful, we wait for next year impatiently!
While waiting, find back the atmosphere of these 3 days with our Flickr album
Nathalie - Service communication