Check our selection of vineyard activities for your groups, prestige tasting, tasting games or even a whole day trip
Please contact us : +00 (0) 2 40 54 24 22
"PRESTIGE" TASTING AT THE CHÂTEAU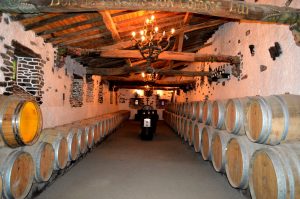 Invitation to the Château de l'Oiselinière, Château de La Preuille, Château du Coing de St-Fiacre, Château de la Cassemichère or Château de Chasseloir where you can visit the vineyards and wine cellars. Their past and their traditions define all the nuances of Muscadet-Sèvre-et-Maine wine, which you will enjoy during the guided tasting of our exceptional cuvées.
Price: starting from €5/P Château de la Cassemichère – based on a minimum of 20 people
Château de la Preuille and Château de Chasseloir: €7 / pers. – based on a minimum of 20 people ( €3 extra on sunday )
Château du Coing de Saint Fiacre: €6 / pers. based on a minimum of 15 people (<15 people: €8 / pers.).
TASTING-GAME
Looking for a fun wine tasting ? Then, "20/20 in the cellar" is the tasting for you ! This old marquisate is full of history and has very original underground vaulted cellars. They are transformed into a playground to help you discover the vast world of wine. In teams and in good spirits, you will play with proverbs, corks, aromas and grape varieties as well as the history of the vines, barrels, phylloxera, etc. All these games will help you learn about our job as winemakers. The tour is open to everyone, regardless of your personal knowledge of wine. The best team will be rewarded during the tasting of the château's wines.
Price: €4,50 /P- based on a minimum of 12 people – maximum of 75 people. Duration: 1h30min
DAY TRIP TO THE VINEYARDS 
9:30am: Departure from Nantes by coach with a guide (2h30min), comments on the Wine Route of the Vineyards of Nantes (itinerary Vertou, Saint Fiacre sur Maine, Château Thébaud).
12:15pm: lunch in an old farmhouse in the heart of the vineyards (2h)
2:30pm: Guided tour of Clisson (1h30min), a unique and historic city where tile and brick mingle with slate and granite. The romantic ruins of Château de Clisson rise on a rocky spur overlooking a maze of narrow streets full of Italian charm.
4pm: Wine Route of the Vineyards of Nantes (continued) comments on the vineyards and guide until 6pm (itinerary: Le Pallet, La Chapelle-Heulin)
5:30pm: return trip6pm: arrival in Nantes – End of tour.
Price: €46/P catering included- based on a minimum of 35 people – Add a € 68  package for a departure from Nantes or vertou and € 27 for a clisson departure
Our groups department is at your disposal from Monday to Friday
from 8:30 to 12:0 am and from 1:30 to 5:30 pm
Contact us