Located in the west of France, close to Nantes and to the south east of the Loire-Atlantique department, the Vineyard of Nantes is bordered to the south and east by the departments of Vendée (85) and Maine et Loire (49) and to the north by the Loire.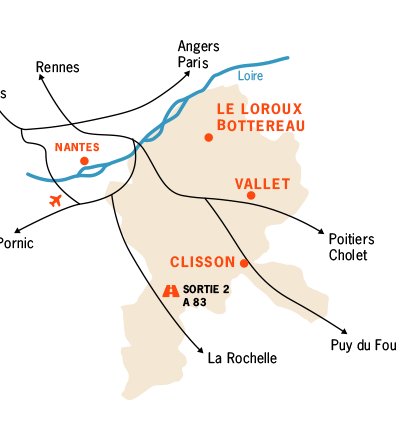 EASY AND FAST ACCESS FROM ALL OVER EUROPE
BY CAR
Motorway A11, access by the east, from Paris, exit Ancenis, then D 923 and D 763 towards Vallet 
A83 motorway: access from the south, from Bordeaux, take Montbert exit then follow D117  towards Aigrefeuille/Maine and Clisson
National N 249 access from east and west of Nantes and Poitiers, take Basse Goulaine/Haute Goulaine and Vallet exists
National N137 & National N165 Access from East Brittany
National 723 access via the Atlantic coast from Pornic/Noirmoutier  
BY PLANE
Nantes Atlantique airport is located at 30 min. Taxis are available for the railway station. A shuttle bus joins the railwaystation in Nantes to get a train or tram train to Clisson.
By train
Tram train or train from Nantes / train from Cholet
(a lot of travels from Clisson, duration 30/40 min from Nantes or Cholet)
RAILWAY STATION IN THE VINEYARD OF Nantes
In  LA HAYE FOUASSIERE : Rue des Encloses
In LE PALLET :  Rue de l'Amiral de la Galissonière, Tel : 02 40 80 40 18
In GORGES : D59 – Rue Général Audibert
In  CLISSON : Rue Ferdinand Albert.  Tel : 02 40 36 11 70
BY COACH
Access via regular local buslines from Nantes ( in Fr. )
 
BY TAXI OR VEHICLES WITH DRIVER 
Our partners are at your disposal for your displacements in the Vineyard of Nantes. Taxis, vehicles with driver, rental cars, all professionals at your service.